Last week, 22-year-old Denise Gomez and her mother waded into the Rio Grande, straddling the border between El Paso, Texas, and Juárez, Mexico. Their feet were wrapped in trash bags as they crossed through the cold, shallow water to embrace each other. Gomez's mother was deported to Mexico ten years ago and Gomez—an undocumented immigrant still living in the United States—has not seen her since.
"We didn't say much," Gomez told me. "We just cried and held each other."
Gomez was just one of approximately 5,000 individuals who were briefly reunited with loved ones as part of the third Hugs Not Walls event, organized by the Border Network for Human Rights (BNHR), a nonprofit based in El Paso. The event required intense coordination from BNHR and its Juárez counterparts in order to register and match up the families that met in the middle in groups of ten, each allowed just three minutes to embrace before returning to separate sides of the border.
"This is an act of humanity and love," said BNHR director, Fernando Garcia, speaking over a loud speaker to the 400 families lined up behind the fences that flank both sides of the river, each waiting their turn to descend down the concrete ramps and meet their loved ones before being ushered away under the watchful eyes of US Border Patrol and the Mexico's federal police.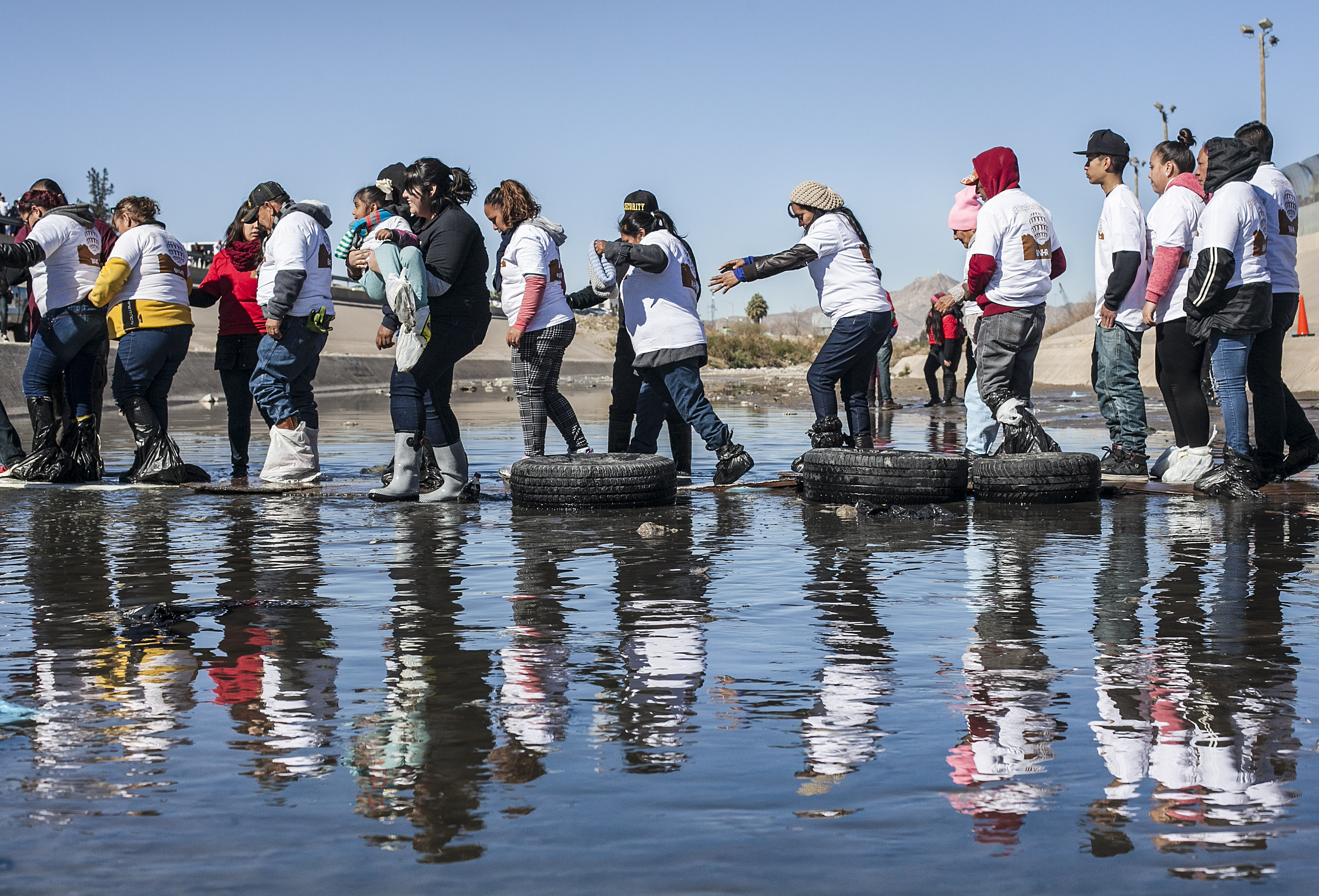 All photos by Gabriela Campos
This year's event had an added sense of urgency coming just days after President Trump signed a series of controversial executive orders, including the "Border Security and Immigration Enforcement Improvement" order, which, if funded by Congress, would expand the border wall, add 5,000 Border Patrol agents and 10,000 immigration officers, authorize state and local law enforcement officers to act as immigration officers, and open new detention centers.
"This is an act of protest," Garcia told me. The purpose of the Hugs Not Walls, he said, is to show the human consequences of US immigration policy that has deported millions of undocumented immigrants and separated countless families over the past two decades. "We want to bring attention to the suffering of deported and separated families—suffering that will likely continue with the new administration launching an aggressive policy of enforcement and persecution of immigrants."
Last year, 240,255 undocumented immigration were deported, according to figures from US Immigration and Customs Enforcement. It's hard to say how many of those deportations impacted families, but according to the Center of Migration Studies, there were 3.3 million mixed-status households in the United States in 2014. It's likely that many deportees left behind parents, children, or other relatives when leaving the US.
"The wall that Trump promises to expand represent hostility, racism, and fear of the other," said Arturo Banuelas, an El Paso–based priest who gave the opening prayer at the event. "Hugs are the obvious counter to a steel wall. This is a message we need now more than ever in the wake of these actions."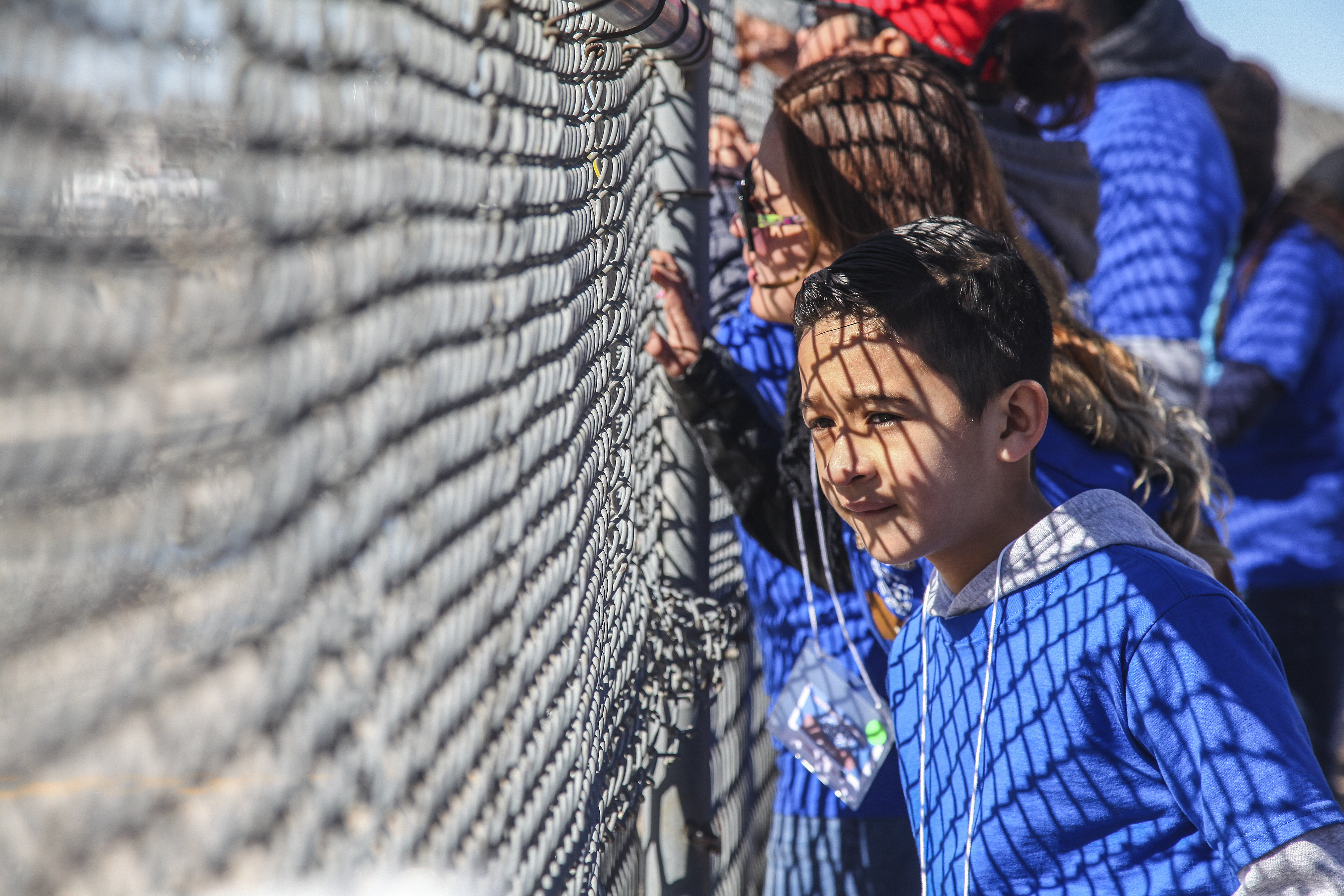 Garcia organized the first Hugs Not Walls last summer as a way to unite families who had been separated for years, sometimes decades. This year, Garcia said they had to turn away hundreds of families, as 400 families was the most that could fit into the five hours allotted by Customs and Border Patrol.
"Obama deported 2.5 million people," said Garcia, speaking to the past administration's immigration record. "Trump is promising not only more, but much, much more of the same."
Throughout his run for president, Trump rationalized his draconian immigration position as a necessary means to halt out of control illegal immigration in order to protect the economy and American citizens from violent predators. "When Mexico sends its people, they're not sending their best," said Trump at his presidential announcement speech in June 2015. "They're bringing drugs. They're bringing crime. They're rapists."
"For months, we were being told that we were villains," said Evan Mendoza, a 23-year-old from El Paso and one of the roughly 11 million undocumented immigrants in the US who, according to President Trump, could be subject to deportation.
Mendoza arrived to Hugs Not Walls to meet his father whom he hadn't seen in 15 years. "My family came across for a better life," said Mendoza, whose father was pulled over on his way home from his construction job, detained for six months, and subsequently deported for illegal entry. "He is not a criminal. I am not a criminal."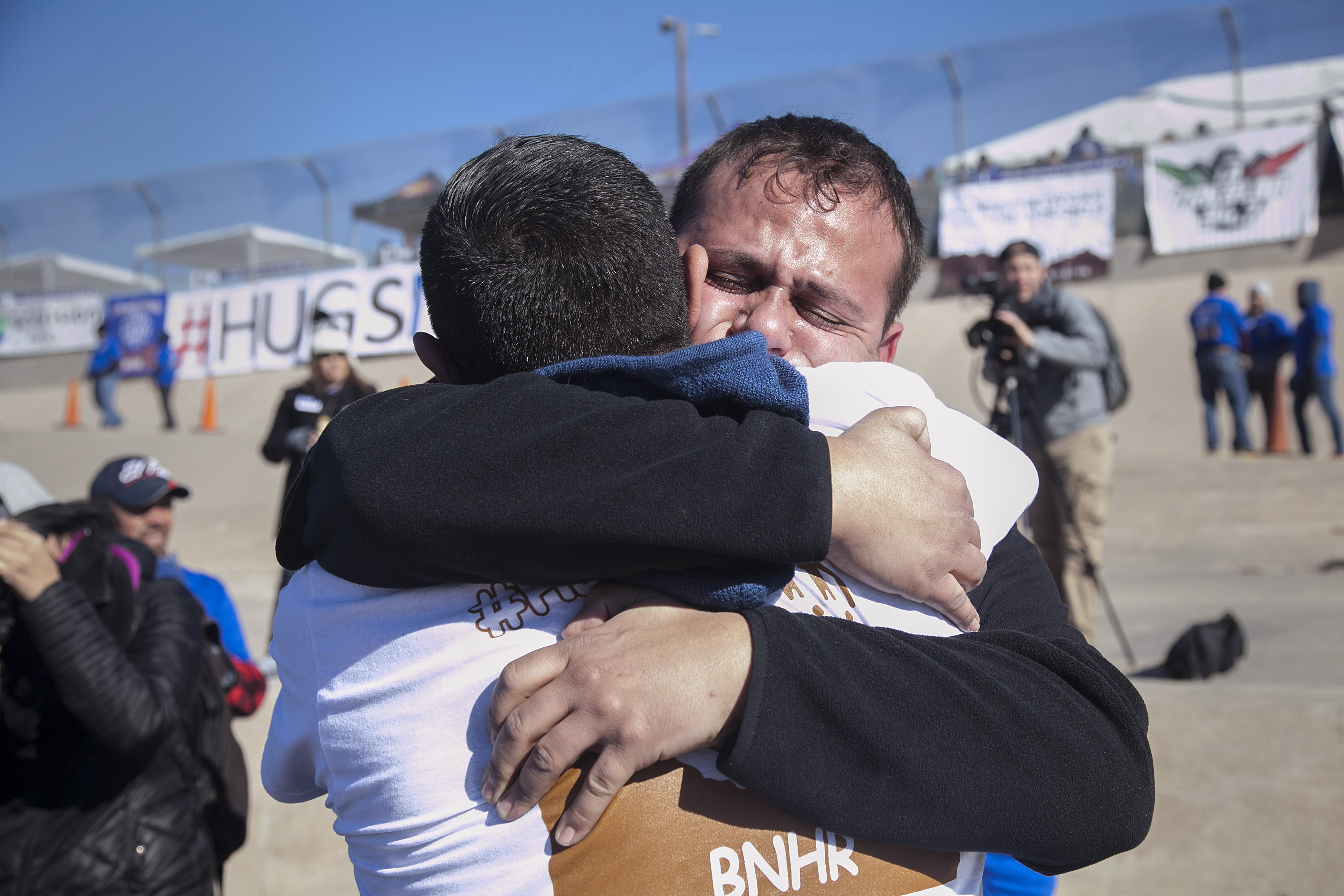 "The campaign rhetoric was way overblown," Robert Warren, the senior visiting fellow at the Center for Migration Studies and the former director of statistics for the Immigration and Naturalization Service told me. "[Trump] made outrageous statements during the campaign about the border being out of control and about criminals pouring over. In terms of halting immigration, the southern border is a real success story."
According to Warren's research, the number of immigrants coming in from the south has dropped by 80 percent since 2000, and the total number of people living in the US illegally has fallen to its lowest level in a decade, due in no small part to the massive securitization and militarization of the US-Mexico border since 9/11. In El Paso, there are actually more Mexican nationals going south than coming north.
"If in fact there was as a mass deportation program, it would put the entire country at risk," said Wallace, who co-authored the recent report titled "Mass Deportation Would Impoverish US Families and Create Immense Social Costs."
"It could endanger the housing market, the GDP would drop by trillion of dollars. Seven million workers would be taken from the country," he told me.
"These are hard-working Americans, tax payers supporting families that have often lived here for decades," said Garcia.  "And what are they treated with is detention and deportation."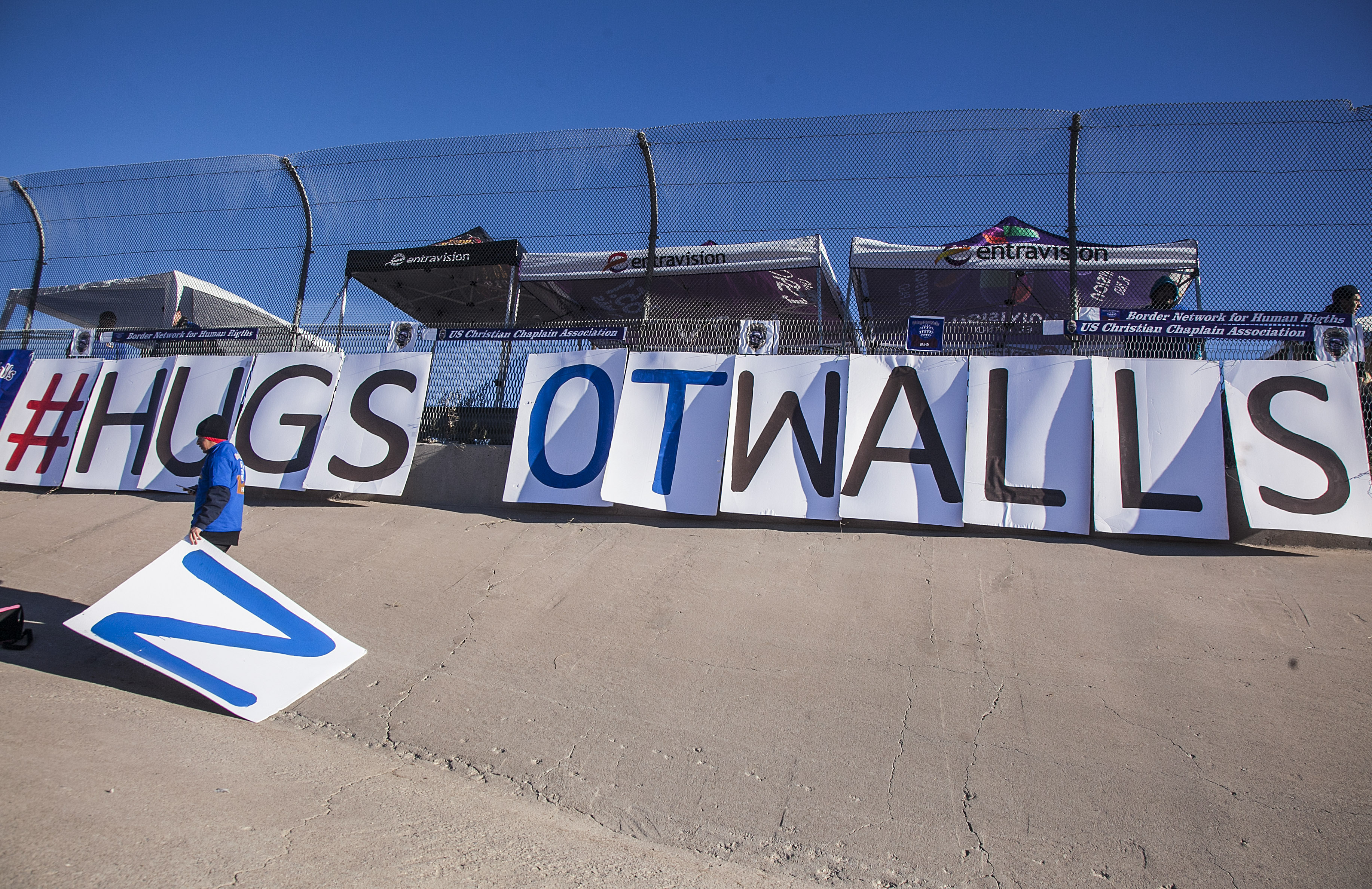 For 20-year-old Oscar Aguilar, deportation has been a defining part of his life, separating him from both his brother and father, who were deported five and 17 years ago, respectively.
"Seeing my dad, it's difficult," said Aguilar, who traveled 14 hours to El Paso from Salt Lake City, where his other siblings and mother still live. "All we have known is the US. Trump promises to return us to a country we don't even know."
"It's painful and joyful to watch," said Banuelas, as the last group of families came together in the mud, crying, laughing, and then leaving all to soon without knowing when or under what circumstances they will get to see one another again.
"These" said Banuelas, pointing to the families on both sides of the river, "are the dramatic consequences of a broken immigration system."
Follow Samuel Gilbert on Twitter.